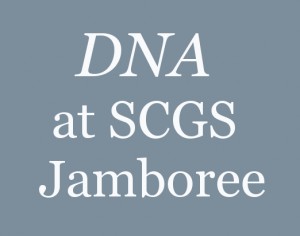 As I wrote previously, the Southern California Genealogical Society has officially announced the 45th Annual Southern California Genealogy Jamboree (June 6-8, 2014), which will again be preceded by Family History and DNA: Genetic Genealogy in 2014.
In addition to many presentations on DNA Day (Thursday), there are DNA-related presentations planned throughout Jamboree (Friday through Saturday).
Browsing through the schedule (links at top of page here), these are the presentations I found either directed to DNA or explicitly utilizing DNA:
Blaine Bettinger (FR018) – "DNA and the Genealogical Proof Standard"
CeCe Moore (FR019) – "Why Should I Take a DNA Test?"
Nicka Smith, Angela Walton-Raji, Bernice Bennett and Shelly Murphy (FR024) – "The Future of African American Genealogy"
Bennett Greenspan (SA037) – "The Future of Genetic Genealogy"
ISOGG (SA049) – "Ask the Experts about DNA and Genealogy"
Maurice Gleeson (SU020) – "Ireland and the Slave Trade"
Drew Smith (SU024) – "DNA 102: Understanding and Using Test Results"
Blaine Bettinger (SU029) – "Begging for Spit"
My Other Presentations
I'm especially excited about presenting "DNA and the Genealogical Proof Standard."  This topic has not received nearly enough coverage by the genealogy community, and I think it's very important. I will absolutely be asking for input from others, so feel free to share your thoughts below … Click to read more!