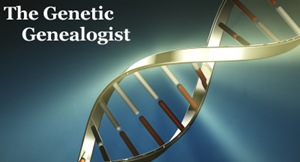 On the heels of my recent post discussing all the interesting information that's recently entered the blogosphere about genetic genealogy and DNA studies, here are a few more:
Misha Angrist, one of the Personal Genome Project's "First 10", wrote an article about the inevitability of DNA sequencing at News Observer. The article is a response to a recent editorial in the NEJM.
VisiGen Biotechnologies announces that IF their technology works as planned, the $1000 genome is just months or a few years away. See more at Genetics and Health and Next Generation Sequencing. Pacific Biosciences (PacBio) has made a similar announcement.
John Hawk's Anthropology Weblog, "Viking Ancestry, Surnames and Medieval Genetics" examines a recent study in Molecular Biology and Evolution "investigating whether the Viking influence on surnames in England is mirrored by Y chromosomes." It's a great post, especially for genetic genealogists.