Familybuilder, launched in 2007, is a genealogy company that ranks among the top 10 online genealogy services in the world with over 17 million users and over 120 million family tree profiles.  Late last year the company began offering a genetic genealogy product, as I wrote about here on the blog (see "Familybuilder Announces DNA Testing").
Disclosure: This is a review of Familybuilder's Y-DNA service using a kit I received free of charge for purposes of this review.  Please note that this is not meant to be an endorsement but merely a review of the Y-DNA service offered by Familybuilder.
The results of a Familybuilder Y-DNA test includes:
"The Migration Map for you and your ancestors, your 17 Markers, your Haplogroup and the History of your DNA.  In addition, the ability to share your results with family and friends on social networks such as Facebook and MySpace as well as a downloadable PDF (suitable for framing)."

I received the following kit in the mail for the Y-DNA testing, which included a swab, detailed instructions, and a return envelope: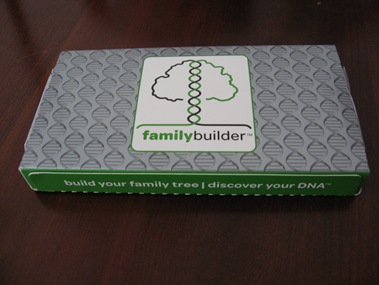 Since I have already … Click to read more!