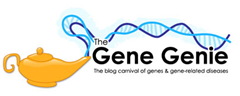 Welcome to the September 14, 2008 edition of Gene Genie!  Bloggers have begun to pick up posting with the end of summer, and it seems like everyday there's a bunch of new interesting posts about the human genome.
96well at Reportergene presents "Trends in development of reporter genes."  Reportergene is also looking for bloggers/reporters to join the blog's community and help create the "main repository of news and tools for reportergenomists."  See here for more information.
fightingfatigue presents » Have Japanese Researchers Found Diagnostic Tool for ME/CFS? posted at Fighting Fatigue.  According to a study discussed in the article, there might now be a test able to diagnose Chronic Fatigue Syndrome.
Genomes by the Handful
Human genomes are being sequenced by the handful these days.  Knome has recently delivered their first sequenced genomes to customers on 8gb USB drives placed in engraved boxes.  Additionally, news came last week that the first Arab genome had been … Click to read more!